Bench Sweeps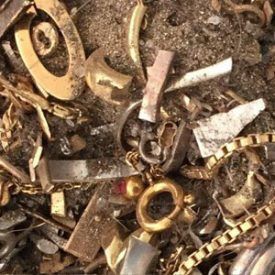 Jewelers Bench Sweeps
At Rancho Gold & Jewelry, we pride ourselves in being able to buy any gold in any form. This includes jewelry, gold teeth, coins, bullion and gold nuggets as we have covered in previous blogs. Today we are discussing other ways to find gold in your house or from inheritances that can sometimes be confusing.
Bench sweeps, otherwise known as Jewelers sweeps, tend to look like grey dirt with little bits of gold sparkles. Bench sweeps are the product of a jeweler using his tools to fix or create jewelry. This causes tiny bits of gold and other precious metals to mix with dust, dirt and any other debris. Despite this, bench sweeps can have quite a bit of gold content, with some batches coming up 40% gold or sometimes even more. With our 35 years of knowledge & experience, and our high-tech equipment like our X-Ray Spectrometer, we can accurately determine the gold content and pay you cash for your jewelers' bench sweeps.
Other ways of recycling or recovering gold can come from melting down old gold-plated computer circuit board piece and other industrial equipment. This includes jewelers' crucibles, microchip manufacturing equipment, bullion assaying equipment, and anything else that develops a layer of gold, silver, platinum or palladium.
If you have, or think you have, recovered recycled gold, the friendly staff at Rancho Gold & Jewelry will be able to test it and pay you cash on the spot. There is no obligation, and all testing is done free of charge. Visit us today for your cash offer!
Bring your Jewelers Bench Sweeps into Rancho Gold & Jewelry today for your free, no obligation cash offer! Or call us at 702-626-0000.