Gold Bullion Coins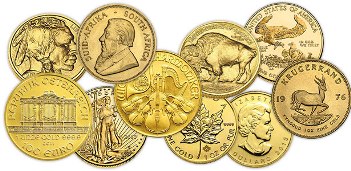 Government Issued Gold Bullion
Modern Gold Bullion coins got their start in 1967, with the introduction of the South African Krugerrand. The Krugerrand contains 1 troy ounce of pure gold, alloyed out to 91.67%, with the remaining 8.33% being made up of copper. Since then, other countries have released their own gold bullion coins, such as the Canadian Gold Maple Leaf (99.99% pure gold), the Chinese Gold Panda (99.9% pure gold), the American Gold Eagle (91.67% gold) and the American Gold Buffalo (99.99% pure gold), among many others. Most of the time gold bullion will be marked with its gold weight (1 ozt, 1/2 ozt, 1/4 ozt, 1/10 ozt) and in some cases, a face value, making the gold bullion coins legal tender in its country of origin.
Rancho Gold & Jewelry will buy any gold bullion coins for cash. We have high tech, non-invasive testing methods to ensure your coins never get damaged in our care.

Visit us or call us at 702-626-0000 today and we would happy to answer any questions.