Is My Old Jewelry Valuable?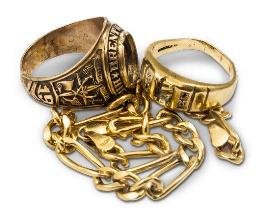 What is the value of my broken and no longer worn jewelry?
Worn or broken Jewelry can come in all shapes and sizes, from the smallest solitaire pendant to a large, heavy necklace. Jewelry appraisals takes this, along with many other things into account. The other major things that come into play when getting a cash offer jewelry appraisal are things such as which precious metal your jewelry is composed of, and what purity that precious metal is. For example, a 10 karat gold chain is approximately 41% gold, with the rest of the alloy made up of other metals, such as copper and nickel, depending on the desired color of the gold. When selling jewelry for cash, a 10 karat piece will be worth less money than a 14 karat piece of the same weight, due to 14 karat gold being approximately 57% gold. Other precious metals used in jewelry are platinum, usually either 90% or 95% pure, and sterling silver, which is 92.5% pure silver. No matter if you have a pile of sterling silver, a few small pieces of gold, or a huge pile of all kinds of jewelry, broken or not, Rancho Gold & Jewelry will sort it for you and make you a no obligation cash offer on the spot.
Receive the best prices on Scrap or Used Jewelry
Due to the fact that your broken jewelry pieces are still made up of these precious metals, they still have intrinsic value no matter what shape the piece is in. By using our X-Ray Spectrometer to determine the exact content of metals combined with the weight of your item, we are able to give you the best offer when you are selling jewelry for cash. When you are thinking of places to sell used jewelry in Las Vegas, give Rancho Gold & Jewelry a call or come in. We have secure privacy rooms so you can comfortably have a seat while we go over your precious metal broken and no longer used jewelry, and no one can look over your shoulder. We are here 6 days a week to serve you, and have over 35 years combined experience buying jewelry in the Las Vegas Valley.

Visit us or call us at 702-626-0000 today and we would happy to answer any questions.