Platinum Bullion Coins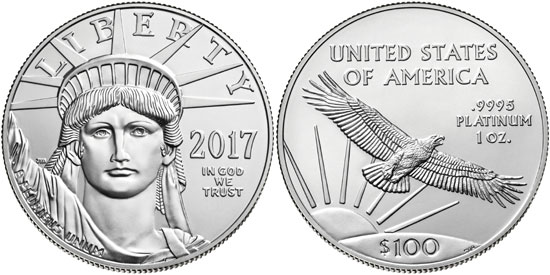 Platinum Coins
Platinum is a precious metal first discovered in South America in 1735. It was given the name platinum from the Spanish word 'platina', which means 'silver', due to the silver color of the metal. In 1822, a large cache of platinum was found in the mountains of Russia. It was in Russia where the first platinum coins were made, in the form of platinum rubles. This began the transformation of platinum into a show of wealth, similar to gold and silver. Despite this, platinum coins would not gain much popularity worldwide until the 1980's.
In 1983, the Pobjoy Mint issued the first modern platinum bullion coin, the Isle of Man Noble. The Noble was available in 1ozt, 1/2ozt, 1/4ozt, 1/10ozt and 1/20ozt sizes. The denomination of the Noble was not struck on the coin, as it is tied to the price of platinum, while still being legal tender on the Ilse of Man. The Noble was a success, and soon other countries followed with their own platinum bullion coins. In 1987, Australia approved the minting and release of the Australian Platinum Koala coins. These legal tender platinum bullion coins were available in even more sizes than the Noble, including 2ozt, 10ozt, and even one kilogram sized Australian Platinum Koala coins.
In 1988, Canada introduced the Canadian Platinum Maple Leaf coins. Originally available in 1ozt, 1/2ozt, 1/4ozt and 1/10ozt sizes, in 1993 the Royal Canadian Mint added a 1/20ozt platinum maple leaf coin, and in 1994 they added a 1/15ozt size coin. The 1/15 size was quickly dropped, and eventually in 2009 the 1ozt platinum Maple Leaf Coin was all that was being produced.
Finally, in 1997, the United States Mint introduced the American Platinum Eagle. The Platinum Eagle is available in 1/10, ¼, ½ and 1 ounce varieties. Theses bullion coins are produced in both proof and uncirculated strikes.
Rancho Gold & Jewelry are professional platinum bullion buyers in Las Vegas. We have over 40 years combined experience buying platinum bullion. Please call us at 702-626-0000 or come in with your platinum bullion today!