Platinum Jewelry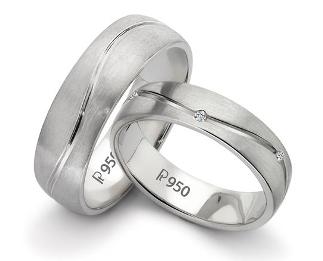 Platinum
Platinum was not always prized as a precious metal. In fact, when miners in the 16th century found platinum in gold and silver mines, they would throw it into the water to 'ripen'. It wasn't until the 18th century that platinum became thought of as a precious metal, with a large deposit being found in the Ural Mountains in Russia. Since that time, platinum has gone from mostly unknown in the world to one of the most premium precious metal choices for fine jewelry.
Unlike gold, which is known for its mailability, beauty, and the ability to alloy it with other materials to strengthen it and give it different colors, platinum is known for being very dense, having a high melting point, and is usually alloyed to 90% or 95% pure when used in jewelry. Because of the density, a piece of platinum jewelry is going to weigh more than a piece of gold jewelry of the same physical size. You can see this more when you look at a 1 ounce platinum bar next to a 1 ounce gold bar.
Even though at the time of this writing, the spot price of gold is approximately 50% higher than the spot price of platinum, platinum is still considered to be the more high-end precious metal. This can be seen in the price of platinum Rolex watches and platinum Tiffany Jewelry costing more than the 18 karat gold counterparts. One of the reasons behind this is that public perception of platinum being higher class than gold. Another reason is the higher melting point of platinum makes working with the metal, to make jewelry, more difficult and labor intensive.
Platinum jewelry is usually going to be marked with Pt950, Pt900, 950, 900, and sometimes 800, but does not necessarily have to have a marking. Platinum can also be marked "10% Iridium" since Platinum that is 90% pure is alloyed with 10% Iridium.
At Rancho Gold & Jewelry, we buy any type or purity of platinum, in any shape or form. From engagement rings to broken jewelry, bullion and dental platinum.
Rancho Gold & Jewelry's staff are professional platinum buyers in Las Vegas. We have over 45 years combined experience buying platinum. Please call us at 702-626-0000 or come in with your platinum today!