Sterling Silver Flatware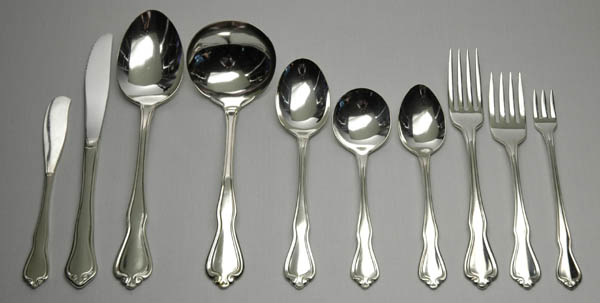 Silverware & Sterling Silver Serving Pieces
Flatware made of sterling silver has been a luxury item for centuries. It has since fallen out of general use for many reasons, including easier to clean stainless steel flatware and the relatively high cost of silver, not to mention the silver taste left by using sterling forks and sterling spoons when eating. Nowadays, there are few people willing to properly care for a set of sterling silver, and many owners have sets that are no longer being used and are choosing to sell them for cash.

Many people call and ask: How can I tell if my flatware is sterling silver? Most sterling flatware manufactured in the United States will be stamped "Sterling". Some pieces may be stamped with ".925" indicating its silver content. Flatware and serving pieces produced in Europe may have "hallmarks" or "maker's mark," indicating the purity of the silver or the company or individual silversmith that made it.

Rancho Gold & Jewelry is here to help. Please feel free to call us at 702-626-0000 or simply bring in your sterling flatware and we would happily make you a no obligation cash offer.